Top Stories
Those Challenged Respond!
More Warriors took the ALS Ice Bucket Challenge. See the video below. Principal and Head Boys Basketball Coach Pat Larsen, Head Football Coach Ryan Haughton, and Assistant Football Coach Eric Frenzen accepted Head Volleyball Coach Plumbtree's nomination to perform the widespread craze known as "the Ice Bucket Challenge." This challenge required them to fill buckets full of ice water to . . . read more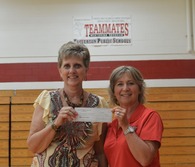 Ginette Small and MaDonna McCray
$200 Given by Cornhusker Power Goodwill Fund
The Fullerton Teammates program was presented $200 from the Cornhusker Power Goodwill Fund. Ginette Small, Goodwill Trustee, presented the check to Madonna McCray, Fullerton Teammates Chapter Coordinator read more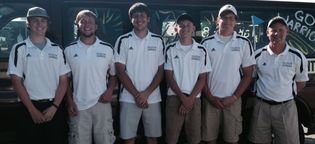 After winning their District Meet, the Warrior Golf Team competed at the State Golf Meet held at the Kearney Country Club. The Warriors . . .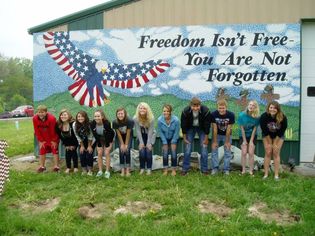 Patriotic Mural at Veteran's Memorial
The Fullerton Art Students under the direction of Mrs. Marta Roeder in cooperation with the Nance County Development Agency and the Margaret . . .