Top Stories
As the school year begins, many important events are planned. 1 to 1 Laptop Rollout - Monday, August 11th at 6pm - Laptops will be distributed to students in grades 7-12 after an informational presentation. Please bring the laptop paperwork and payment if you plan to take your computer home. First Day of School - Thursday, August 14th - Full of day of school for students 7-12 School Pictures - Friday, . . . read more
Do you have a great book you want to suggest for our Fall 2014 read to succeed? Please use the form at this link: https://docs.google.com/a/fullerton.esu7.org/forms/d/1ehMPOKOMwYU5hqWx7A_X44PORS7iPP9fD13AJuIfLwU/viewform You will need to login to your google drive account before completing the form. If you have any . . . read more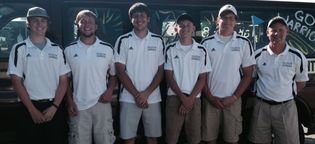 After winning their District Meet, the Warrior Golf Team competed at the State Golf Meet held at the Kearney Country Club. The Warriors . . .
Six Warrior Track Athletes competed at  the State Track Meet Friday, May 23 and Saturday, May 24th.  Junior Garrett Sonderup . . .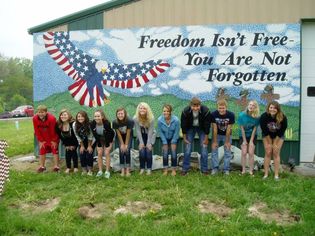 Patriotic Mural at Veteran's Memorial
The Fullerton Art Students under the direction of Mrs. Marta Roeder in cooperation with the Nance County Development Agency and the Margaret . . .